AN OVERVIEW
Electronics Engineering department is one of the most dynamic and enthusiastic department of the institute. The department was established in the year 2000 which offers B. Tech. degree in Electronics and Communication of four years duration. The intake capacity of the department is 60 students as per the AICTE approval. Electronics engineers are changing the world to a comfortable global home. The information and technology revolution has been built on the advances of Electronics. In an age when electronics play a major role in daily life and the promise of nanotechnology is coming to fruition, it truly is a great time to be a part of E&C engineering.
KEY FEATURES
Excellent Teaching learning process through modern teaching aids like LCD Projectors, OHPs & Laptop.
Industrial Visit & Continuing education programme (Workshops, Seminars, STTP, Paper Presentations).
Strong industry interface with leading companies..
Department of Science & Technology (DST) sponsored the student's projects.
Placements in the Govt. and Private sectors like BSNL, DMRC, Samsung, DRDO etc
VISION & MISSION
Vision
To produce creative engineers with social responsibility who can address the global challenges in the field of Electronics and Communication Engineering.
Mission
Provide exposure of latest tools and technologies in the area of engineering and technology.
Creating knowledge of fundamental principles and innovative technologies through research within the core areas of computer science and also in inter-disciplinary topics.
Serving the communities to which we belong at local and national levels, combined with a deep awareness of our ethical responsibilities to our profession and to society.
Enhance Industry Institute Interaction programme to get acquainted with corporate culture.
ACADEMIA
LABS AND WORKSHOPS
The Department has the following fully equipped laboratories
Basic Electronics Lab
Electronics Measurement & Instrumentation Lab
Digital Electronics Lab
Communication Lab
Microwave Engineering & Antenna Lab
Electronics Workshops
Microprocessor Lab
Electronic Engineering Design Lab
Project Lab
ESSENTIAL SUBJECTS
The essential subjects of Electronics and Communication Engineering include: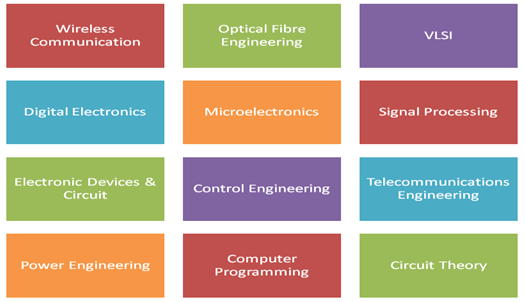 ACADEMIA UPDATION METHODOLOGIES
The Department is regularly discussed in the faculty meetings and is updated whenever necessary.
Department is also discussed in the Board of Studies meetings and suggestions (if any) are incorporated.
A discussion also takes place in meetings with the colleagues from the industry and academia.
We have put into place a system that will collect feedback in the form of questionnaire from the following

Employers, who visit the institute for campus recruitment
The alumni, who attend the alumni meet which is held in the month of April / May every year.
External visitors from the academia and the industry, who visit the department from time to time for presentations, viva-voce examinations, workshops, conferences etc.
JOB PROSPECTS & CAREER
This field has an opportunity in two types of companies, Telecom Industries and Software Industries. An electronics and communication engineer can work in aviation and avionics, consumer electronics, electricity plant, manufacturing, transportation, communication & telecommunication, computer application, radio & television, diagnostic equipment manufacturing and offshore companies.
There is an opportunity to get a central government job, state government job and in public & private sectors.
Salary packages offered to electronics engineers vary upon various factors such as working skills, qualifications, working area, recruiters and many other terms. Big MNC's like Texas Instruments offer salaries in the range of Rs. 60,000 to Rs. 1,20,000 per month. Indian companies offer salaries in the range of of Rs. 30,000 to Rs. 60,000 per month. Based on talent and experience, salaries can vary.
Some job titles are listed here:
Electronics Engineer
Field Test Engineer
Network Planning Engineer
Electronics and Comm. Consultant
Customer Support Engineer
Electronics Technician
Associate First line Technician
Research and Development Software Engineer
Service Engineer
Senior Sales Manager
Technical Director
MAJOR RECRUITERS
BSNL
Samsung
DRDO
BEL
DMRC
ISRO
Siemens
Infosys
HCL Technologies
Texas Instruments
TCS
Intel
Wipro
Philips Electronics
ECIL
Motorola
Accenture
Tech Mahindra
CONTACT US
Ms. Etika Goyal
Head, Department of Electronics & Comm. Engineering
Email: hod.electronics@smcet.in
Contact no: 8302805154