AN OVERVIEW
Top Rated Civil Engineering College in Jaipur Rajasthan
SMCET, Jaipur is Top rated Civil Engineering College in Jaipur Rajasthan. Civil Engineering is the oldest engineering discipline. Civil Engineering addresses to all aspects of the infrastructure facilities necessary for modern living such as buildings, transportation systems, bridges, tunnels, water supply and waste water treatments, environmental protection etc. Civil Engineering actually plays the role of nation building.
The department of Civil Engineering was established in the year 2011, which offers B. Tech. in Civil Engineering of four years duration & the intake capacity is 60 students per year.
The Civil engineering Department of the college is one of the best engineering departments in Jaipur, Rajasthan. Department is having excellent placement record. Most of the students from Civil engineering department have been selected in Jobs by Government of Rajasthan.
KEY FEATURES
Best state-of-the-art laboratories, classrooms and infrastructure among all engineering colleges of Jaipur Rajasthan.
On Site lecture and demonstration of practices including Mountain and Table Survey for Practical knowledge.
Student Counseling & Tutorials.
SMCET Jaipur Collaboration with reputed builders and firms.
Top Placements college in Jaipur, Rajasthan for the Govt. and Private sectors like L&T, Tulsi Buildcon, Mangalam group etc.
VISION & MISSION
Vision
To become a department of excellence that brings out civil engineers with high technical competencies and promotes high-end research to meet the current and future challenges in civil engineering with social values.
Mission
To Provide Quality Education in the domain of Civil Engineering.
To Promote quality education, research and consultancy for industrial and societal needs.
To inculcate moral and ethical values among the students.
To have regular interaction with industries and offer solutions to their problems.
ACADEMIA
LABS AND WORKSHOPS
The CIVIL Engineering Department has the following fully equipped laboratories
Geotechnical Engineering Lab.
Fluid Mechanics & Hydraulic Lab.
Material Testing Lab.
Concrete Lab.
Surveying Lab.
Structural Engineering Lab.
Environment Engineering Lab
ESSENTIAL SUBJECTS
The essential subjects of Electronics and Communication Engineering include: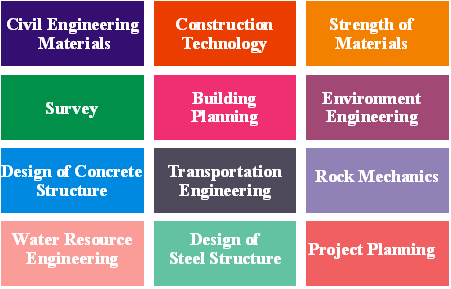 ACADEMIA UPDATION METHODOLOGIES
The Department of CIVIL Engineering is regularly discussed in the faculty meetings and is updated whenever necessary.
CIVIL Engineering Department is also discussed in the Board of Studies meetings and suggestions (if any) are incorporated.
A discussion also takes place in meetings with the colleagues from the industry and academia.
We have put into place a system that will collect feedback in the form of questionnaire from the following

Employers, who visit the institute for campus recruitment
The alumni, who attend the alumni meet which is held in the month of April / May every year.
External visitors from the academia and the industry, who visit the department from time to time for presentations, viva-voce examinations, workshops, conferences etc.
JOB PROSPECTS & CAREER
There is no one typical path for civil engineers but within each subfield the details of a career path can vary. Top civil engineering college in jaipur, rajasthan deals with the design, construction and maintenance of the natural built environment including works such as, bridges, roads, canals, dams, airports, highways, buildings, flyovers, tunnels, chimneys and offshore structures. The Branch plays a very critical role in water resource/environment. In India, a student who has degree in civil engineering from smcet can get the offer of salary started from 5 lakh per annum upto 20 lakh per annum. There is no criterion of salary for the brilliant or experienced candidate.
Some job titles are listed here:
Site Engineer
Field Test Engineer
Planning Engineer
Civil Consultant
Customer Support Engineer
Bridge Design Technician
Road Contractor
Research And Development Engineer
Service Engineer
Senior Sales Manager
Technical Director
Water Distributor Manager
MAJOR RECRUITERS
L& T
Mangalam Group
Emmar Properties
Tata Projects
Punj Lloyd Group
Simplex Infrastructure
PAC Constructions
Unitech Group
HCC
GMR Group
Lanco Infratech Limited
DLF
Nagarjuna Construction Company
Water Distributor Manager
Unicon Development Constructions